If your tire becomes damaged, it may be repaired if it meets the following criteria: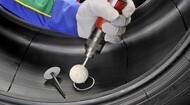 The tire has not been driven on when flat.
The damage is only on the tread section of your tire (sidewall damage ruins a tire immediately) and/or
the puncture is no greater than ¼"
For help on how to inspect your tire, click here
If your tire is flat, we can help teach you how to change a tire.
How is a tire properly repaired?
Repairs of all tires must be of the combined-plug-and-inside-patch type.
Your MICHELIN tires (including Michelin PAX System™ tires) must be removed from the wheel for inspection prior to repair. Plug-type repairs made on a tire that remains mounted on a wheel are improper and can result in an accident. A tire should be removed from the rim and inspected prior to repair. Any tire repair done without removing the tire from the rim is improper and can result in an accident.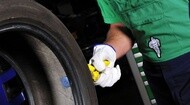 Find tire dealers near you in seconds
Search by
Address, City or ZIP code
Top 5 cities in the United States