Discover our MICHELIN Bicycle Tires
Cam Zink wins RedBull Rampage 2023
October 2023 turned out to be memorable for Michelin rider, Cam Zink, who turned heads with a massive backflip off a 63-foot cliff earning him a high score of 95 for his Red Bull Rampage winning run! Having first won the event in 2010, this win was extra special as Cam celebrated the win with his family immediately afterwards. Joining Cam and his kids on the podium was Michelin rider Carson Storch whose impressive score of 87 secured him 3rd place in the iconic competition. Michelin partnered with Zink in 2016 to develop many of the more popular Michelin MTB tires, including the Michelin DH22 and Michelin DH34 tires, giving you the opportunity to  ride on the same tires Cam trusted to win the 2023 Red Bull Rampage.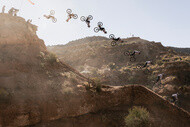 Michelin Power Adventure tire
The newest tire in the Michelin Gravel range is designed for riders who want to explore beyond the road.  Our new tire completes our gravel range for limitless fun in a variety of conditions when the road ends.