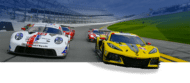 MICHELIN and IMSA
Partners in Racing Performance


Track-to-Street
Why is Michelin in IMSA? Michelin connects the track to the street within IMSA in several ways. Michelin has motorsports within its DNA, and its unique experience and relentless focus on innovation have made it the technical tire partner of choice for many top manufacturers and independent teams.
Why does Michelin partner with IMSA?
BENEFITS OF IMSA PARTNERSHIP
Advance Technology
As part of its process, Michelin engineers and motorsport tire specialists work with all automotive brands and teams that race within the series. These engineers and specialists monitor tire performance, capture data, recommend performance insights and present development ideas to Michelin technical centers for developing the tires you drive on every day.

Since becoming Official Tire of IMSA in 2019, Michelin has captured research and development data from over one million miles in competition by covering all on-track sessions across three IMSA race series. That data capture and development help fuel the next generation of tire technology.
Michelin Engineers & Motorsport Tire Specialists help teams maximize tire performance on an IMSA Race weekend.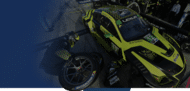 Build Relationships
IMSA provides Michelin the opportunity to work with 18 automotive brands, such as Acura, Alfa Romeo, Aston Martin, Audi, BMW, Cadillac, Chevrolet, Ferrari, Ford, Honda, Hyundai, Lamborghini, Lexus, Mazda, McLaren, Mercedes-AMG, Porsche and Toyota.
Michelin has an Original Equipment relationship with most of these 18 brands. That extra depth of understanding, data and creative insight pays off when Michelin works together with these brands to develop new tires for production vehicles.
Michelin and automotive brands work closely together to grow their partnership on and off track.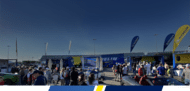 Engage With Our Fans
Ultimately, IMSA is for the fans. The passionate enthusiasts come to an IMSA race to see and engage with their favorite cars and drivers at track. This space provides an opportunity for fans to connect with Michelin and to learn more about the technology Michelin has developed.
Fans can learn more about Michelin's wide range of products and interact directly with Michelin Tire Experts.
The MICHELIN® Pilot® Sport Family
Michelin has developed a whole range of performance tires. No matter what performance factors you are looking for - speed, grip, handling, or all of the above - these sports tires are designed to offer it all.