Mendocino Road Trip Guide
This overnight driving tour takes you north on CA-1, from San Francisco up to Mendocino County. North of San Francisco, and inland from the Pacific shore to the crest of the Coast Ranges, this swath of northern California embraces a dynamic medley of redwood forests, wild coastline, rugged mountains, charming towns and vineyards spilling over from wine country. Western Marin County—Sausalito, Muir Woods National Monument and Point Reyes National Seashore in particular—remains a favorite destination for day and weekend trippers from San Francisco. This is a scenic driving tour, so your route up the coast is the prettiest, not the fastest. All driving times given below are approximate.
Pack a cooler (you'll soon be filling it with local bites) and head out of San Francisco, driving northeast on CA-1 to Point Reyes National Seashore (approx. 1h20m). At this beautiful coastal park the Pacific crashes into tall rocky headlands and soft sandy beaches along 80 miles of shoreline. There are 150 miles of walking hiking trails here, from a .6-mi paved loop to a 13-mi hike with spectacular ocean and forest views, with plenty of options in between. Fifteen hundred species of plants and animals call Point Reyes home, including hawks, elephant seals (once hunted nearly to extinction, now making a comeback), and even black-tailed deer.
Point Reyes Lighthouse, Point Reyes National Seashore. Photo © lucky-photographer/iStock 
Driving out of San Francisco
Quiche from Brickmaiden Breads. Photo by Leonardo E. Ferri, courtesy of Brickmaiden Breads
For a coffee or snack break, drive five minutes into the village of Point Reyes Station. Despite its truly diminutive size, there are several places to stop here. Start at one of two charming country bakeries. Bovine Bakery has a dizzying selection of treats (go for oat almond maple cookies and the buttermilk blueberry scones). Just next door is Brickmaiden Breads with myriad loaves, sandwiches on crunchy-chewy baguettes, sweets like caramel-poppy seed bread pudding, and a few tea and coffee options. More caffeine is on offer at Toby's Coffee Bar one block away, which doubles as yoga studio and art gallery.
If it's lunch you're after, there are four MICHELIN Plate restaurants near Point Reyes Seashore. Both Cafe Reyes and Osteria Stellina serve top-notch pizza (with toppings like local nettles and fennel sausage); Saltwater beckons oyster aficionados who slurp up catch from nearby Tomales Bay (alongside plenty of other local seafood); and at Sir and Star, taste the best of northern Californian ingredients in beet soup or desserts like cardamom beignets with regional honey and strawberries. Sated, make your last stop Cowgirl Creamery, a turophile's dream with its cases and shelves of house-made organic aged and fresh cheeses.
Cafe Reyes. Photo © Michelin
Gualala River estuary viewed from the Gualala Bluff Trail. Photo by Sterling Lanier on Unsplash 
From here, continue on CA-1 north to the tiny town of Gualala (approx. 2h10m). Stretch your legs on the Gualala Bluff Trail, a flat path, lined in pretty wildflowers, with gorgeous views of the Pacific. If it's a Saturday morning, stop by the Gualala Farmers' Market (Saturdays 9:30am-12:30pm, or fill your tote with all manner of goods from North Bay producers at Surf Market (think zingy apricot chutney, briny olives, or a pint of toasted almond chai gelato; go on, eat a spoonful while looking out at the ocean). Before you get back in the car, get a little culture fix at contemporary art gallery Studio 391 and something to read at community favorite bookstore Four-Eyed Frog.
Harbor House Inn. Photo by Harbor House Inn, courtesy of Visit Mendocino County
Russian Gulch State Park. Film by Brendan McGuigan, courtesy of Visit Mendocino County
After spending the night in Elk, Little River, or Mendocino (see Where to stay below), start the day with a refreshing hike in one of the beautiful state parks nearby: peaceful redwood forest Navarro River State Park, Russian Gulch State Park with its mix of breezy coastal trails and shaded forest walks (you can also swim at the beach here), and Van Damme State Park, which has superb trails and an area of unusually short cypress and pine trees. If your hotel doesn't include breakfast, make a beeline to Queenie's Roadhouse Cafe in Elk, a classic diner with delectable portions of breakfast staples.
Dust off for your next stop—Healdsburg, in Sonoma County, California's wine country. There are not a ton of places to stop along the way should you need a snack or drink, so swing by Good Life Cafe in Mendocino for something to go. The scenic drive from Mendocino to Healdsburg (CA-128E) takes roughly two hours. There are more than 100 wineries in Healdsburg. Many but not all offer tastings (from $15). If there's a winery you want to visit that doesn't list tasting information, contact them! (For sparkling wines, contact Bodkin Wines, who do a delightful sparkling sauvignon blanc).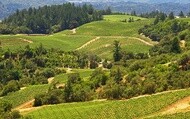 Alexander Valley Vineyards, Healdsburg. Photo courtesy of Healdsburg Chamber of Commerce & Visitors Bureau
Spoonbar. Photo © Michelin
For lunch, try for a patio table at MICHELIN Bib Gourmand restaurant Spoonbar where the menu is concise and kitchen turns out satisfying Californian fare—a beet and Cypress Grove goat cheese salad, or crispy chicken with ricotta gnocchi (come on a Wednesday or Friday for their beloved Korean fried chicken). 
The fastest route from Healdsburg back to San Francisco is on CA-101 (approx 1h30m). Your drive back will take you through Santa Rosa. If it's a Sunday, a stop at Sonoma Crust is a must. Their beignets are simply divine.
Where to stay
This rural Craftsman-style house on the southern Mendocino coast—built atop rugged cliffs by lumber-company executives in 1916 and meticulously renovated in 2018—offers luxurious lodgings and spectacular views. Ten rooms with names like Redwood, Harbor and Meadowview all sport a different decor. Four luxury cottages all have fireplaces and private ocean-view decks. Its One MICHELIN Starred restaurant, Harbor House, focuses heavily on local products: wood for smoke, fish caught just a few hundred yards from the hotel and, of course, California's bounty of produce. Rooms from $509
Harbor House Inn. Photo by Brendan McGuigan, courtesy of Visit Mendocino County
Harbor House Inn. Photo by Brendan McGuigan, courtesy of Visit Mendocino County
Elk Cove is a handsome Craftsman mansion turned 16-room inn (including suites and cottages) and sits right on the water, with beautiful ocean views. No two rooms are alike, but are all homey and invite guests to gaze out at the Pacific. Service is warm and friendly here; guests are greeted on arrival with toothsome chocolate chip cookies baked in house, fruit, and local wine; there's a complimentary happy hour every afternoon. Rooms from $225