Atlanta is a dynamic southern city buzzing with energy. You can eat every kind of cuisine here, visit world-class museums, and walk, bike, or run along a former rail line—stopping for bites, drinks, and a little shopping along the way. This one-day walking and driving tour around Atlanta will show you the best of the city; you'll have to come back for more.
To help combat the spread of Covid-19, some venues below may be closed or by appointment or reservation only. Note that masks are required in all venues except when you're eating.
Things are changing rapidly. We do our best to update openings, closures, and hours. All information published below was correct at the time of writing.
Atlanta skyline with the Beltline. Photo © 2017 Gene Phillips, Courtesy of ACVB & AtlantaPhotos.com
Joy Cafe. Photo courtesy of Joy Cafe
Start your day in Atlanta with breakfast at Joy Cafe, a southern American restaurant serving brunch classics like buttermilk pancakes, omelettes and, of course, biscuits and gravy.
After breakfast, visit one or more of Atlanta's excellent museums.
High Museum of Art: This is the southeastern US's premiere art museum. Its collection of 17,000 pieces spans 19th- and 20th-century American and European works, a growing collection of work by Black artists, photography, folk art, art from the African continent, and works by Southern artists. Shows include a retrospective of photographs by Dawoud Bey, and paintings and works on paper by David Driskell, who died in April at 88. Walk 8 minutes from Joy Cafe
High Museum of Art, Atlanta, Georgia
High Museum of Art, Atlanta, Georgia. Film courtesy of Courtesy High Museum of Art, Atlanta
The content in this video was created before the start of the COVID-19 crisis.
National Center for Civil and Human Rights. Photo by Melissa McAlpine/Atlanta Convention & Visitors Bureau
National Center for Civil and Human Rights: The American Civil Rights Movement meets the Global Human Rights Movement at this powerful museum, where photos and artifacts teach visitors about human rights crises around the world—and what can be done. Don't miss the MLK Jr. gallery, an exhibition of pieces from The Morehouse College Martin Luther King, Jr. Collection, including Dr. King's personal items. Drive 10 minutes from Joy Cafe
Apex Museum: Through artifacts and storytelling, this Black history museum tells the story of the transatlantic slave trade, the life of enslaved people in America, and the legacy of slavery, and highlights Black business pioneers in Atlanta and women in STEM. Drive 10 minutes from Joy Cafe
Apex Museum. Photo courtesy of Atlanta Convention & Visitors Bureau
Children's Museum of Atlanta. Photo courtesy of Children's Museum of Atlanta
Children's Museum of Atlanta: Kids can play on a farm, go grocery shopping, travel the world, paint, climb a treehouse, and dance at this fun, interactive museum downtown. Drive 10 minutes from Joy Cafe
After you've visited a museum or two, it's time for lunch and the Beltline. This major urban renewal project is transforming former rail lines into 33 miles of bike and pedestrian paths. It's estimated the entire project will be finished in 2030, with streetcar and park connections.
Atlanta Beltline, Georgia
Atlanta Beltline. Film courtesy of Atlanta Convention & Visitors Bureau
Ponce City Market. Photo by Melissa McAlpine/Atlanta Convention & Visitors Bureau
For a quick cafe bite, go to Rooted Baking Co for a sandwich on their flaky house-made croissant or an eggy breakfast bowl with grits from Appalachian seed project Farm and Sparrow.
Rooted Baking Co. CrumbBar and coffee. Photo by Shell Royster, courtesy of Rooted Baking Co.
9 Mile Station. Photo courtesy of 9 Mile Station
For rooftop brunch, reserve a table at pub 9 Mile Station, where you can tuck into a merguez sausage hash with a pint of Georgia craft beer.
After lunch, peruse some of the shops in Ponce City Market, like Citizen Supply (men and women's clothing, accessories, home goods, and fun Atlanta-branded gear); Posman Books; and candle shop Candlefish, where you can also make your own.
Citizen Supply. Photo courtesy of Citizen Supply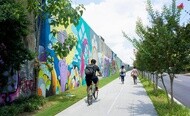 Cycling along the colourfully painted murals on the Beltline in Cabbagetown. Photo by Melissa McAlpine/Atlanta Convention & Visitors Bureau
From here, you've got two options. A pedestrian bridge connects Ponce City Market with the Beltline's Eastside Trail. Strolling along it, you can either walk 30 minutes to John Wesley Dobbs entrance and then rent a bike at Atlanta Bicycle Barn, or continue on foot. The Beltline is filled with art, including colorful walls that make vibrant photo backdrops. Use this map of Art on the Atlanta Beltline and walk or ride between pieces.
Dinner tonight is at Negril Village, a Caribbean restaurant in a beautifully restored 1907 firehouse filled with warm lighting and gleaming dark wood. The space is elegant, but the menu is far from pretentious. Munch on codfish fritters with avocado cream, rum-glazed jerk salmon with whipped sweet potatoes and sautéed asparagus, and heavenly warm cornbread with guava butter.
Where to Stay:
The Rooftop, Hotel Clermont. Photo by Tablet
Hotel Clermont: A 1920s red-brick edifice in the Poncey-Highland neighborhood houses 94 homey rooms. They're done in retro-influenced but not old-fashioned style, mixing Art Deco and mid-century modernist influences with contemporary art and up-to-date electronics. The Rooftop, exactly what it sounds like, is the laid back rooftop bar where a crowd of guests and locals alike sip frosé and hot toddies while taking in the sweeping views.