Learn about the ideal tire pressure for your track days.
Whether you are a beginner or an expert, you will find the right MICHELIN tire for your track days. 
Find your tires in seconds
Which is the best MICHELIN tire for your riding style?
Looking for fast lap times and long lasting performance on the track? Find the tire that you need based on your level and the engine size of your bike. From road and track tires to competition tires, find the most suitable offer for your needs.   
The right track pressure, follow the guide! 
On the track and on the road, having the right tire pressure is essential. This will allow you to achieve maximum performance when riding. Each tire is developed using different technologies and has its own recommended pressure setting for track day use. Michelin gives you: a cold pressure and a hot pressure.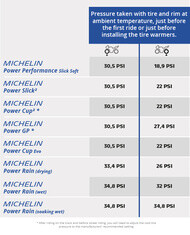 Please note: The above recommendations are applicable for track use. When using the Michelin Power Cup 2 and Michelin Power GP on the road, please refer to the motorcycle manufacturers recommendations.
Competition and performance have always been a part of Michelin's DNA. Since its return in 2016, Michelin is the official and exclusive tire supplier to MotoGP™  
Since 1973, Michelin has had more than 440 wins and 31 world championship titles in the Premier Class with 15 different riders. 
In 2019, the brand also returned to national level motorcycle racing with the MICHELIN Power Performance range, winning several championship titles in both the 600 cc and 1000 cc categories, notably in France, Greece, Spain and Sweden.
In 2020, the POWER ranges were launched in the market to meet the needs of sports riders from the road to the track.