Sprawling Houston is best known for restaurants serving food from around the globe, a culturally rich museum district and, of course, the Space Center, NASA's HQ. This one-day tour of the city gives you museum options and where to eat, shop, and stay the night.
To help combat the spread of Covid-19, some venues below may be closed or by appointment or reservation only. Note that masks are required in all venues except when you're eating.
Things are changing rapidly. We do our best to update openings, closures, and hours. All information published below was correct at the time of writing.
Mural by Gonzo247 on the corner of Preston Street and Travis Street, Downtown Houston. Photo courtesy of Visit Houston
Blacksmith. Photo by Julie Soefer Photography, courtesy of Blacksmith
Start your day in Houston with breakfast at Blacksmith in Montrose, a neighborhood cafe with lots of exposed brick and a nice patio. The short list of delicious breakfast and brunch options includes Vietnamese steak and eggs with house pâté and baguette and chilaquiles with eggs, salsa verde, black beans, and queso fresco. Blacksmith is known for its coffee and tea selection; expect expertly-brewed cups.
After breakfast, it's decision time: Are you going to Houston's museum district (10 min drive), or are you going to the Space Center (40 min drive)? Until Dec 31st, the Space Center is open until 10pm, so you may be able to fit in both. This is NASA's massive HQ, where interactive exhibits tell the story of outer space and getting there (timed tickets required).
Space Center Houston. Photo courtesy of Space Center Houston
Pho Barr's Vegetarian Pho. Photo courtesy of Pho Barr
After the Space Center, we recommend having lunch at Pho Barr, five minutes down the road. Slurp a warming bowl of pho, the broth rich with lemongrass, or go for summer rolls bursting with cilantro, vermicelli noodles, and plump, pink shrimp, tofu, or meat.
There are 19 cultural institutions in the walkable museum district, and most are currently open (the others have a great roster of virtual programming). Park and stroll between them. Here are a few:
Houston Museum of African American Culture: See prints, paintings, and mixed media work by Black artists in Houston, Texas, the southwest, and the African Diaspora across the US. The museum also screens films and has a robust speaker series, but these are on pause due to covid. Open Fri and Sat 11-6pm by advance booking only
Houston Center for Contemporary Craft's main gallery. Photo courtesy HCCC
MICHELIN Travel Guides - The Health Museum, Houston, Texas
The content in this video was created before the start of the COVID-19 crisis.
The Health Museum, Houston, Texas. Film courtesy of The Health Museum
After a museum or two, drive 15 minutes to Upper Kirby for lunch at Ethiopian restaurant Blue Nile. At Ethiopian restaurants, a combo plate is the way to go. That way, you can try a handful of fish, meat, and/or vegetarian options like yemisir wot (a wonderfully piquant red lentil stew) and yebeg key wot (lamb cubes cooked in berbere sauce), all eaten with injera, a slightly sour, spongy flatbread.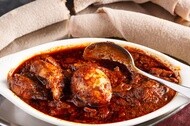 Doro Wot served with injera. © LindasPhotography/iStock
MICHELIN Travel Guides - First Saturday Arts Market, Houston, Texas
The content in this video was created before the start of the COVID-19 crisis.
First Saturday Arts Market. Film courtesy of First Saturday Arts Market
From here, drive 20 minutes to The Heights, one of Houston's most historic neighborhoods, with blocks lined in handsome Victorian houses. The first Saturday of every month is First Saturday Arts Market, where local artists sell their work, mostly paintings. The place to shop is on W 19th St at Ashland St. Park and wander along 19th, window shopping or popping into boutiques. A few to visit:
Retropolis: Two floors of vintage clothing and accessories for men, women, and kids, records, and jewelry by local artists.
Retropolis. Photo courtesy of Retropolis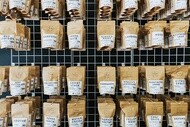 Tea Sip. Photo by @blueprint_film_co
Tea Sip: Dozens of teas are sold here, from Purple Haze, a tart hibiscus oolong blend, to Honeybush, the fruitier, sweeter cousin of rooibos.
Fly High Little Bunny: A compact space selling bold, bohemian jewelry like horse cufflinks in silver, monstera studs in silver, and bee earrings in brass.
Big Blue Whale: A wonderful toy store filled with puzzles, costumes, books, vehicles, pretend play supplies, finger puppets, and putty.
Go for a casual dinner at Cedar Creek Bar & Grill, where you can sit out on the deck or by the fire pit. Munch pub grub like a Nashville hot chicken sandwich or fish tacos, or go healthy with a quinoa and kale bowl with salmon, avocado, and tomato. On offer are craft beers from a few Texas breweries, including Texas Leaguer Brewing Company and Back Pew Brewing.
Hotel ZaZa Houston. Photo © Julie Soefer Photography/Tablet
Hotel Zaza Houston: Museum District Hotel ZaZa, the second from the Dallas-based group, puts decadence first. Standard rooms are deluxe, but not as overtly hedonistic as the eight luxury suites, each featuring a different theme, played out in the fabrics, furniture, extras, and amenities like whirlpool hot tubs and plasma screens. Smaller "concept" suites range from Geisha House—lavishly done up in shades of red—to Houston We Have a Problem, an homage to NASA, telescope included. In warm weather, grab a striped lounger by the pool and splash around.