Cruiser Tire Wet-Weather Comparison Test
Independent Test by Motorrad Magazine issued 6/2020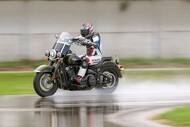 There is an age-old compromise when designing motorcycle tires: the balance between grip and durability. A tire that lasts forever will have poor traction, while super sticky rubber will wear out quickly. In terms of cruiser-style motorcycles, outright grip isn't as important as it is on sportier motorcycles, because cruisers are generally limited to moderate lean angles before hard parts start dragging.
This grip/longevity tire compromise is reasonable for most cruiser riders, especially those who ride in North America's wide-open spaces and hate the expense of changing tires, so cruiser tires typically are built more for long life than grip. However, if riding in wet weather is part of your motorcycling equation, a typical cruiser tire might fall short of your traction needs.
Until recently, the choice of the right tires for a rainy ride on Harley-Davidsons, Indians, and the rest of the cruiser class has been limited. But developments in cruiser-tire technology have recently been focusing on ensuring a great ride even in wet weather.
The grip/longevity balance of many cruiser tires isn't as tilted in other motorcycle classes, with tires offering a well-balanced combination of stability, dynamics, and mileage. One thing is certain: Performance comes at a cost—first and foremost, the mileage. But the gain in safety is enormous and quickly makes up for having to replace tires more often. Once an 800-pound machine starts to slide, hardly anyone will catch it, even if the leather vest reads Marc Márquez.
In a large customer survey in the U.S., mileage was identified as the main reason for purchasing, but there were strong suggestions that more safety in the rain was desirable. Indeed, the Bridgestone H50, introduced in 2017, was able to stand out from the durable original tires during earlier tire tests and inspired more confidence on wet tracks. Bridgestone says a special analysis of the pressure distribution has been carried out to adjust the contact patch to the road in order to improve handling and grip on both dry and wet asphalt.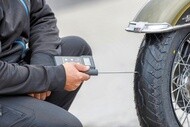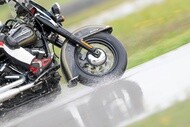 Metzeler also showed a strong interest in the neochopper clientele when it introduced its Cruisetec in 2019. The Brazilian-made Cruisetec was aimed at the V-twin rider who wanted better control in the rain, and in direct comparison with the H50, it is a winner. Above all, it was due to Metzeler taking a completely new approach that has no relation to the previous ME 888 or ME 880. This is particularly evident in this comparison by looking at the results of its sister model, the Pirelli Night Dragon GT, in tests. That tire, which is still built according to old cruiser principles, is far behind from what the current Cruisetec can do in the rain.
The Cruisetec's most important feature is the dual-compound rubber at the rear, which balances traction and longevity with durable rubber in its center section, but grippier rubber at its edges for better traction when turning, especially when used in wet-weather conditions. 
Michelin hasn't been idle either with the recently released Commander III in two versions: Cruiser and Touring. The Cruiser version mounted on a test Harley-Davidson shows that the potential for maximizing grip in the rain is far from exhausted. Michelin has longstanding expertise in all-weather tires. Indeed, the Commander III's rubber compound, which has a high-quality silica content, also made a lasting impression on the wet test track.
These advanced tires might not make it into the original-equipment sector, but they are the first choice for cruiser riders who demand optimal control in the rain.
To chart the latest state of the art in cruiser tires, the testers gathered seven of the newest models and put them through exhaustive testing to find out which are the best choices for riders who want to continue riding when it's wet outside. Using a Harley-Davidson FLHCS Heritage Classic 114 as the test mule and its factory-equipment Dunlop D401/D401 T tires as the baseline (130/90-16, 150/80-16), the testers rode through the rain, full speed ahead!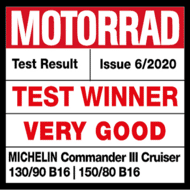 MICHELIN® Commander III Cruiser
Weight: 14.55 lbs front, 18.96 lbs rear
Maximum lean angle when wet: 29.3°
Braking distance from 62 mph when wet: 145 ft
Wet track lap time: 1:13.5 sec
Country of production: Thailand
Test ride: (86 points, 1st place) With impressive performance, the Michelin-tired Harley-Davidson swooshes over the wetted track. Compared with the stock tires, the Heritage Classic pulls through the long Omega turn with almost 10 degrees more lean angle (see p. 28). Thanks to the wide threshold range, the limit of the grip reserves can be ascertained very precisely. When riding straight ahead, the Commander III impresses with powerful traction, and when braking from 62 mph, you come to a full stop at around 145 ft. No other tire beats this record.
Conclusion: With the Commander III, Michelin continues the tradition of not letting anyone take the butter off their bread when it comes to wet-weather performance. Bottom line: Test champion!
Rating: Very good

How The Tests Were Performed
For this test, our testers concentrated exclusively on the detailed analysis of the tires' limits on a permanently wet handling track. These consistent conditions ensured that results were comparable and reproducible.
Maneuverability
… is the steering force required to lean the bike into a tilted position and keep it in an arc while making a turn.
Steering Precision
… is applicable to riding at varying speeds with complex curve geometries. It indicates whether the motorcycle is following the desired line, which is determined by the steering forces, or whether significant line corrections are required.
Threshold Characteristics
… stand for the controllability of the tire at its limit on a wet road.
Grip/Acceleration
… describes the lateral stability and power transmission in wet conditions in turns at various speeds.

Grip/Leaning Position
… is the lateral stability at maximum lean angles in wet conditions—a very difficult balancing act to test, which is only possible on a closed course.

Turning Stability
… tests the security in turns and when passing bumps. It is tested in different ways (solo and with passenger) and when accelerating while the motorcycle is still leaned over.

Directional Stability
… is tested at high speed to determine if the motorcycle remains steady on its course.

Angular Torque
… refers to the steering reaction when braking while leaned over. This reaction must be balanced with a counterforce at the handlebars.

Tire pressure
...according to manufacturer's specifications was set to 2.6 bar front (37.7 psi), 2.8 bar (40.6 psi) rear.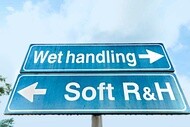 This comparison clearly shows how the Michelin Commander III can be steered quickly, safely, and confidently through the rain with strong grip, while the Dunlop D401 gives in early on.

The diagram shows a typical "flying lap" with two very different tires in comparison. The performance spectrum on wet roads can be analyzed in impressive depth using 2D data recording. On the track profile you can see different types of turns, in which the potential of all tires can be explored very thoroughly.

The constantly wetted test track is traveled several times in order to push the limit for each tire: traction when accelerating, grip when braking, and feedback when cornering. The highlighted Omega is particularly revealing, with the 180-degree hairpin bend allowing a rider to push the lean-angle limits of the tires.
The Test Track
The 0.9-mile handling course is located near Rome on Bridgestone's testing grounds and can be watered via a sophisticated system. This makes it possible to simulate a journey in the rain under constantly identical conditions. Each test ride is logged by data recording systems.
The Motorcycle
The Heritage Classic 114 of the Softail series is a fairly typical representative in the varied cruiser segment. This one has been in a long-term test fleet since June 2018 and has logged 31,000 miles. In terms of dynamics, this type of motorcycle reaches its limits quickly, which is why testers have paid particular attention to the wet-weather performance that promotes safety.
Specs
Air/oil-cooled V-twin, 1868 cc, 69 kW (94 PS) at 5,000rpm, 155 Nm at 3,000rpm, double-loop steel frame, telescopic fork, two twin shocks, ABS, tires 130/90-B16 (front), 150/80-B16 (rear), seat height 26.8 in, weight 720 lbs, tank capacity 5 gal, top speed 108 mph, price $21,799
Conclusion
During this tire test the dynamic rating on a dry track was deliberately left out, because it's the motorcycle rather than the tire that sets the performance limits of most cruisers. As a result, traction in dry weather isn't much of an issue. The real difference in cruiser-tire performance is found when riding on wet roads.
This is where Michelin and Metzeler offer a real advantage in terms of safety. They are the definite recommendation for all-weather riders.
Bridgestone and Continental offer solid products that can still be handled with ease in the rain. Dunlop, Mitas, and Pirelli, on the other hand, fall behind significantly when ridden in wet weather.