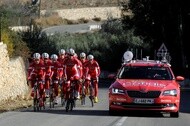 COFIDIS AND MICHELIN, PARTNER TOGETHER FOR THE NEXT TWO YEARS
MICHELIN AND THE COFIDIS TEAM HAVE SIGNED A TWO-YEAR PARTNERSHIP. BEGINNING IN 2018, MICHELIN WILL EQUIP THE BIKES OF THE NORDIC TEAM.
The Cofidis Team will be equipped with the MICHELIN Power range, which includes the Group's latest technological innovations. Teams from Michelin's Ladoux Technology Center specifically targeted three key areas of performance for the best riders in the world: grip, rolling resistance and puncture protection.