Visit Bucks County for a Historic Road Trip
Just an hour outside Philadelphia is Bucks County, a pretty collection of towns, working farms, shops and galleries, and historic sites. Foliage fans should make this trip in Autumn to see the leaves at their peak (this fall foliage map makes predictions on when that'll be). Oh, and pack a hammer: you'll see why when you get to Erwinna.
To see where locals and tourists alike are going, use #OurTurnToTourist.
To help combat the spread of Covid-19, some venues below may be closed or by appointment or reservation only. Note that masks are required in all venues except when you're eating.
Things are changing rapidly. We do our best to update openings, closures, and hours. All information published below was correct at the time of writing.
New Hope. Photo by R. Kennedy, courtesy of VISIT PHILADELPHIA®
Day One: North on River Road for Views, Trails, and a Wine Tasting
From Philadelphia, drive on I-95 North to Exit 10 (New Hope). From here, follow signs to Route 32 (River Road) North, which hugs the Delaware River. Your first stop is Washington Crossing Historic Park. If you're a history buff, you can geek out over the place where General George Washington and his troops crossed the Delaware River in December 1776. If you're here for the views, you won't be disappointed; the foliage spans the NJ and Pennsylvania sides of the river, a riot of orange, red, and gold. On the Pennsylvania side is a small museum and Bowman's Hill Tower. On a clear day, the view from 125 feet up spans 14 miles—rolling hills, the river, and canopies of trees.
Washington Crossing Historic Park and the Delaware River. Photo by Paul Loftland, courtesy of VISIT PHILADELPHIA®
Photo courtesy of Bowman's Hill Wildflower Preserve
More greenery fills Bowman's Hill Wildflower Preserve, a 134-acre nature preserve with 700 plants native to Pennsylvania and the Delaware Valley. It's wonderfully peaceful here, and you can wander alongside fields of beautiful wildflowers, like the bright yellow wingstem and lilac aromatic aster.
From here, you'll turn left and continue five minutes on River Road to tiny New Hope. If you've got kids in tow, head straight for Bucks County Children's Museum, where kids can pretend to be nurses and doctors, work in an old timey general store, or dig up fossils. Note that the museum is currently closed due to covid-19; see site for updates.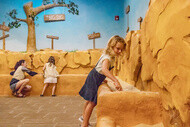 Bucks County Children's Museum. Photo by Kevin Crawford Imagery, courtesy of Visit Bucks County
Sprig & Vine's Seared Jasmine Rice Cakes and Edamame Falafel. Photo by Joy Cole, courtesy of Sprig & Vine
Despite New Hope's small size, you've got a few options for lunch: there's upmarket Martine's, serving tasty, standard American fare in a yellow wooden house on the riverfront; Sprig & Vine, a vegan restaurant with toothsome deserts like an almond flour-black cocoa torte with salted tahini caramel; and riverfront pub The Dubliner on the Delaware.
Custom knife sheath made by Fred Eisen, Fred Eisen Leather & Art Knives. Photo courtesy of Fred Eisen Leather & Art Knives
Depending on time, you've got a few options. If you're in no hurry and want to stretch your legs, drive 15 minutes north on River Road to Lumberville, where Lumberville-Raven Rock Walking Bridge connects Lumberville and Bull's Island Recreation Area, across the river in New Jersey. The bridge is just 688 feet and is pedestrian-only. Take the quick jaunt across and walk the park's trails, shaded by sycamores, river birch, American elms, and silver maple trees.
Sand Castle Winery. Photo by Kevin Crawford Imagery, courtesy of Visit Bucks County
If you've booked in for a tasting at Sand Castle Winery (daily, every hour, on the hour 12-4pm), drive 12 minutes north on River Road to sip some of their wines, among them a pinot noir and a riesling. This is a laid-back, unpretentious winery with a calendar of events: a surf and turf food truck, drag bingo with pizza, and comedy nights. When there are no food trucks or events, guests are welcome to bring their own food.
Drive seven minutes to stay the night in the little waterfront village of Frenchtown, on the New Jersey side of the Delaware River.
Day Two: Strolling in Frenchtown, Hammering in Ringing Rocks Park, and a Scenic Train Ride
After breakfast, wander around pint-size Frenchtown, visiting Merge Gallery (antique and modern furniture, rugs, lighting, and other decor plus work from local artists); Sunbeam General Store (everything under the sun, from house-made jam to puzzles; and gift shop Sublime (cards, vintage jewelry, kids' books, soap).
Sublime. Photo by Lisa Heilman, courtesy of Sublime
Ringing Rocks County Park. Photo by William Johnson Photography, courtesy of Visit Bucks County
Drive back into Pennsylvania and 10 minutes north to Ringing Rocks County Park, seven acres of rocks that trill like a bell when you hit them (this is where the hammer comes in). This is part of a larger park whose trees turn fiery orange, red, and yellow in autumn.
From here, it's 35 minutes drive south along the river back to New Hope for a scenic train journey on the New Hope Railroad (advance booking required). Step aboard a vintage train for a ride on rails that were laid in 1891 by the North-East Pennsylvania Railroad. The 45-minute traditional ride has an open-air car for unobstructed views and the pleasant feel of the wind in your hair.
New Hope Railroad. Photo by Photo courtesy Visit Bucks County, courtesy of VISIT PHILADELPHIA®