Hudson Valley Day Trip Guide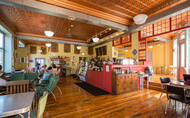 Peekskill Coffee. Photo courtesy of Peekskill Coffee
This one-day drive takes you from New York City north to the Hudson Valley where you will experience a beautiful region of quaint towns, big state parks, breweries, wineries, the historic homes of American captains of industry and outstanding art galleries. The Hudson Valley stretches from Westchester up to New York State's capital Albany, and this drive goes to Beacon, about an hour and a half from NYC.

To help combat the spread of Covid-19, some venues below may be closed or by appointment or reservation only. Note that masks are required inside all venues except when you're eating.

Depending on where in NYC you're leaving from, you'll head north out of the city on either I-87 N or NY-9A N and Saw Mill River Pkwy N.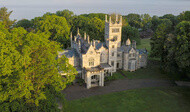 Lyndhurst Mansion by the Hudson River. Photo courtesy of National Trust for Historic Preservation
First Stop: Tarrytown, New York
After 40-60 minutes depending on traffic, you'll arrive at Lyndhurst Mansion. From a distance, this picturesque mansion looks like a baronial castle on the Rhine. The 1838 Gothic Revival-style house perches on a wooded bluff above the Hudson River. It was originally designed for a mayor of New York City, then enlarged for a subsequent owner in 1865. In 1880, financier and railroad tycoon Jay Gould acquired the 67-acre estate, which remained in the family until the death of Gould's daughter in 1961. Peaks, pinnacles, porches and turrets embellish the exterior, accentuating the mansion's irregular shape. Inside, ribbed and vaulted ceilings, pointed arches and stained-glass windows reinforce the Gothic mood. Drive or walk around the grounds to discover striking views of the mansion and its parklike 19C landscaping (see Lyndhurst Mansion tour options here).
Muddy Water Coffee & Café. Photo courtesy of Muddy Water Coffee & Café
Union Church of Pocantico Hills. Photo by Jaime Martorano, courtesy of Historic Hudson Valley
From here it's less than a 10-minute drive into Tarrytown, a quaint village just in from the river. Stop into Muddy Water for a turmeric latte or a cup of smooth cold brew.
After coffee, drive seven minutes to Union Church of Pocantico Hills, best known for its beautiful stained-glass windows, designed by Henri Matisse and Marc Chagall and commissioned by the Rockefellers. The Matisse rose window, completed two days before the artist's death, glows with shades of clear blue, bright yellow and deep green. Chagall designed the eight side panels, representing Old Testament themes, as well as the large window at the rear of the church. It is the only such assemblage created by Chagall in the US  (book self-guided tour tickets in advance).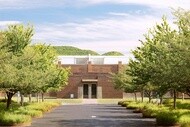 Dia Beacon, Riggio Galleries, Beacon, New York. ©Dia ArtFoundation, New York. Photo: Bill Jacobson Studio, New York. Courtesy Dia Art Foundation, New York
Second Stop: Beacon, New York
Photo © Lucas Green/iStock
From here, it's a 50-minute drive north along the Hudson to Dia Beacon, a superb contemporary art museum in a former Nabisco box-printing factory. In addition to showing selections from the Dia Foundation's permanent collection—which includes large-scale conceptual works by Michelle Stuart, Marian Zazeela, Richard Serra, Donald Judd and others—Dia mounts vast retrospectives of noted artists such as Agnes Martin and Robert Smithson.
For lunch, it's a mile to Beacon's Main Street, where Ziatun serves delicious Middle Eastern-Mediterranean fare. Go Cypriot with grilled halloumi, Egyptian with ful (a fragrant stew of cooked fava beans, with jalapeno, tomato, fresh lemon, and garlic, serviced with pita), or Lebanese with adas, a warming red lentil and carrot soup with crispy onions.
Beacon Mercantile. Photo courtesy of Beacon Mercantile
Beacon Pantry's Bresaola. Photo by Emily Gumpel Clifton, courtesy of Beacon Pantry
After lunch, walk along Main Street, popping into a few of its charming boutiques:
Beacon Mercantile: Small-batch, eco-friendly perfumes, candles, and bath and body products hand-made in the Hudson Valley.
Binnacle Books: Indie bookshop with packed shelves of new and used reads of all genres.
Beacon Pantry: Cafe and epicurean marketplace selling French and Italian imports and tasty things from Hudson Valley producers like Oliver Kita chocolates and Eleanor's Best jams.
Take a stroll down the promenade that runs along the Hudson, a walk that's particularly pretty in autumn, when the hills are a sea of red, orange, and yellow.
Long Dock Park, Beacon. Photo © nancykennedy/iStock
Third Stop: Peekskill, New York
Hiking trail in Peekskill. Photo © frwooar/iStock
Back in the car, follow the Hudson south to Peekskill (30-40min on NY-9D S and US-202 E/US-6 E). This river town is home to the industrial-chic Peekskill Brewery, a fun, laid-back place for a pint or a bite; Hudson Valley MoCA, a small, smart museum with thought-provoking exhibitions (open from Sept. 15, by appt. only), and a number of nice hiking trails.
Pull in for a cup of tea at Kathleen's Tea Room (limited hours), which serves and sells more than 60 teas, from a toasty-rice-flavor Genmaicha (green) to Keemum, a wine-y, fruity black tea. They serve afternoon tea fare (scones, crumpets, quiche), and partner with Bridgee's Soul Food Truck.
If Kathleen's is closed, adjourn to Peekskill Coffee, a warm, bright space with a pressed-tin ceiling and retro furniture.
Kathleen's Tea room. Photo courtesy of Kathleen's Tea Room
L'inizio's melon prosciutto. Photo by Kate Schlientz, courtesy of L'inizio
From Peekskill, it's about an hour's drive back to the city, passing by a handful of river towns. If you want to stop for dinner, there are a number of MICHELIN-recommended restaurants on the way, including Two Star Blue Hill at Stone Barns near Tarrytown (currently serving a picnic box); Bib Gourmand MP Taverna in Irvington (patio seating); and MICHELIN Plate eatery L'inzio in Ardsley.
See the entire MICHELIN Guide selection for the US, plus articles on cooking, travel, chefs, and more.

For global hotel bookings and the coolest places to stay worldwide, visit Tablet Hotels.

Before hitting the road, be sure to check your tires' air pressure and tread wear condition. Compare the tire pressure information on the tire sticker in your vehicle's door or in your owner's manual. If you need new tires, visit your local Michelin-certified dealers for the new Michelin ® Pilot ® Sport All-Season 4 tire, for the ultimate all-season performance, or the new Michelin® CrossClimate®2 tire, for luxury all-season driving.
MICHELIN® Pilot® Sport All Season 4 © Michelin North America