Things To Do In Miami's Art District
To help combat the spread of Covid-19, some venues below may be closed or by appointment or reservation only. Note that masks are required in all venues except when you're eating.
Things are changing rapidly. We do our best to update openings, closures, and hours. All information published below was correct at the time of writing.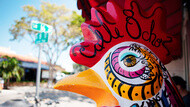 Rooster sculpture on Calle Ocho, Little Havana. Photo courtesy of Visit Florida
Vizcaya Museum and Gardens. Photo by Robin Hill, courtesy of Vizcaya Museum and Gardens
Think of Miami and you might picture South Beach, with its white sand beaches and pumping nightlife. This one-day tour shows you a different side of Miami—one where you can cool off with tropical ice cream in Little Havana, pose for snaps against vibrant murals in Wynwood, and feel transported to Italy at the Vizcaya Museum. Here's where to go on your day out in Miami.
Start the day in Coconut Grove at Vizcaya Museum and Gardens, the waterfront former estate of businessman James Deering. The early 20th century estate spans architectural styles Mediterranean Revival, Baroque, Italian Renaissance, and Italian Renaissance Revival, with a beautiful Italian Renaissance garden. Advance booking required
From here, drive 15 minutes north to Wynwood, a buzzing neighborhood known for its galleries, breweries, and street art; Wynwood has the highest concentration of street art in the entire country. Wynwood Walls is an outdoor gallery with murals by 50 artists from 16 countries (advance booking required) and the crown jewel of the neighborhood. No tickets available? There are also 30 colorful murals dotted around Wynwood ready for photos.

Go for lunch at Dukunoo Jamaican Kitchen, a warm restaurant serving Jamaican favorites like saltfish fritters, lemongrass shrimp skewers, and curry chickpeas.
Museum of Graffiti. Photo courtesy of Museum of Graffiti
After lunch, visit a few of Wynwood's galleries and museums. Among these is the must-see Museum of Graffiti, which showcases graffiti's rise from casual street art to a crucial element in fashion, advertising, design, and art. There is an indoor gallery, 11 murals outside, and a smart gift shop. Advance booking required
Drive 15 to 20 minutes to Little Havana, the center of Latinx culture in Miami. Park and go to beloved ice cream shop Azucar, slinging scoops of guarapiña (sugarcane and pineapple), cafe con leche (Cuban coffee and Oreo), and willy cherino (bourbon ice cream with dark cherries).
Azucar's Abuela Maria. Photo by Carlos Somoza, courtesy of Azucar
Eat your cones as you walk two minutes to gallery/studio space Futurama to see work by Cuban artists, some of whom are doing residencies.
Eat your cones as you walk two minutes to gallery/studio space Futurama to see work by Cuban artists, some of whom are doing residencies.
Playing dominoes at Máximo Gómez Park. Photo courtesy of Greater Miami Convention and Visitors Bureau – MiamiandBeaches.com
Fried calamari, shrimp and corvina topped with cebollitas and fresh jalapeños, La Camaronera Seafood Joint and Fish Market. Photo courtesy of La Camaronera Seafood Joint and Fish Market
After looking at paintings, sculptures, and drawings, walk back the way you came to Máximo Gómez Park, where the soundtrack is rapid-fire Spanish and the click-clack of dominoes being played.
After strolling around Little Havana for a while, head for dinner at La Camaronera Seafood Joint and Fish Market. What was once a humble seafood market is now the place in Miami to get a fish sandwich or fish tacos, yellowtail snapper, and even lobster. Pair it with yuca fries and a cold beer from The Tank, a craft brewery near the airport.
Palihouse Miami Beach:
In a restored Art Deco building in the newly christened Faena District are 71 rooms and studios with a residential feel. Many come with kitchenettes for a bit of self-catering. They're low-key but quite stylish, and though they avoid all the clichés of Miami hospitality design, they certainly don't feel out of place. The hotel is set a block and a half back from the beach, and its Beach Butlers can arrange transportation to some of the best spots, along with beach chairs, umbrellas, towels, and even a packed lunch.
Palihouse Miami Beach. © Tablet