An Overnight Trip to Paso Robles Wine Country
Napa and Sonoma get top billing when it comes to California wine country, but it's Paso Robles that's the best wine weekend getaway from LA. The drive here takes about three and a half hours, on either US101N through Santa Barbara or on 1-5N. Taking 1-5N shaves off about 15 minutes, but we recommend 101N so you can break up the trip in Santa Barbara.
To help combat the spread of Covid-19, some venues below may be closed or by appointment or reservation only. Note that masks are required in all venues except when you're eating.
Things are changing rapidly. We do our best to update openings, closures, and hours. All information published below was correct at the time of writing.
Paso Robles. Photo courtesy of Travel Paso
Day One: Tacos in Santa Barbara, Wine in Paso Robles, and a Brilliant Light Show
From LA, head northeast on US101 N to Santa Barbara. With its welcoming, walkable downtown and whitewashed Spanish colonial buildings with red clay-tiled roofs, Santa Barbara itself is well worth a linger.
Downtown Santa Barbara with the Courthouse Clock Tower. Photo by Blake Bronstad, Courtesy of Visit Santa Barbara
La Super-Rica Taqueria, Santa Barbara. Photo by Caroline Juen, courtesy of Visit Santa Barbara
Pull in here for a snack or early lunch at MICHELIN Plate restaurant La Super-Rica Taqueria, which has been slinging tacos and tamales since 1980. The line outside the cheerful teal restaurant moves quickly as loyal patrons order fish tacos, vegetable tamales, gooey quesadillas, and horchata to wash it all down (cash only).
If it's a Saturday, go to the Maker's Market at Paseo Nuevo, where Santa Barbara artisans sell jewelry, crafts, and bites like Cristy's Cookies—the delicious oatmeal banana walnut chocolate chip cookies taste almost healthy.
Maker's Market at Paseo Nuevo. Photo by Danielle Renee Methmann, courtesy of Paseo Nuevo, Visit Santa Barbara
Halter Ranch vineyards. Photo courtesy of Halter Ranch
From Santa Barbara, continue on 154E/101N up to Paso Robles (approx. 2h). Depending on time, you can check in to your hotel or head straight to wine tasting. Here are a few wineries and vineyards to visit. Note that many wineries require bookings.
DAOU Vineyards: Brothers Georges and Daniel Daou grew up in Lebanon, emigrated to France, and then came to California to study engineering. Daniel had been making wine in his garage in San Diego for years, and the brothers decided to set up a vineyard 2,200 feet above sea level, where cool breezes make for a temperate climate that lets the grapes ripen evenly. Book in for a tasting flight of Bordeaux varieties.
Halter Ranch Vineyard: This is a beautifully wild vineyard where most of the 2,000 acres is occupied by wildlife corridors and canopies of regal oak trees. The winery itself covers 206 acres, where winemaker Kevin Sass and team grow grapes certified SIP (Sustainability-in-Practice, meaning they uphold rigorous sustainability standards), plus 15 acres of walnuts and 10 of olives. Book in for a tasting of Cabernet Sauvignon, Syrah, and Grenache, a tour, or both.
Giornata Wines Tasting Room. Photo courtesy of Giornata Wines
Giornata Wines: The sister of Santa Barbara's trendy Funk Zone—with its brewers, small wineries, and tasting rooms—is Paso Robles' Tin City, where Giornata has its tasting room. The Terrizzis use Italian grapes from local vineyards to produce their wines, like a juicy, zesty Barbera. Giornata also has a pasta factory, Etto, just around the corner. There are a number of cool breweries, wineries, and a couple of restaurants here (and a delicious ice cream shop, Negranti), and you can while away a delightful few hours in Tin City.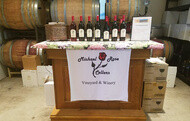 Michael Rose Cellars. Photo courtesy of Michael Rose Cellar
Michael Rose Cellars: Twenty-five minutes' drive from downtown Paso Robles is Rose and Michael Jones' winery, where you can taste half a dozen wines, including a 2015 Grenache, 2015 and 2016 Syrah, and a 2017 rosé.
Eat dinner tonight at lively downtown restaurant La Cosecha, a pan-Latin American-European eatery that serves a mean pizza. The Mediterrano (house-made lamb sausage, goat cheese, marjoram) is the most popular. The daily ceviche, seared scallops, and grilled octopus all pair nicely with the Paso Robles wines being served.
La Cosecha Bar and Restaurant. Photo courtesy of La Cosecha Bar and Restaurant
Day Two: Brunch, Boutiques, and More Wineries
Ahead of a few more wine tastings, start the day with brunch at Andrea's on Pine (closed Mon.-Wed.), a small, quaint cafe downtown that's a favorite of Paso Roblesians. Breakfast burritos, quiche, paninis, fruity baked French toast, and alluring baked goods (raspberry coffee cake, apricot scone) are what's on every table here.
Nearby, pop into a few of Paso Robles' boutiques—thrift store Gatherings Emporium, which partners with local charities and women's clothing and home goods shops Bijou and Firefly. While you're downtown, go by Indigené Cellars (tastings by appt. only), a tasting room by Oakland native Raymond Smith. The top draw here is the Ambiente, a blend of Sangiovese, Malbec, and Merlot, which took gold at 2019's Coast Wine Competition.
Indigené Cellars. Photo courtesy of Indigené Cellars
Brothers Café 3:16. Photo courtesy of Brothers Café 3:16
If Andrea's is closed, head just out of downtown to Brother's Cafe 3:16. This is an old school diner serving heaping plates of pancakes, Californian and Mexican egg dishes, sandwiches, burgers, and salads.
If you're feeling peckish after wine tastings, modern cantina Fish Gaucho opens daily from 3pm. Tuck into scallop or mushroom tacos, lobster enchiladas, and fish aguachile (changes daily) here before your drive back to LA.
Pulpo Tacos, Fish Gaucho. Photo by Heather Malcolm, courtesy of Fish Gaucho